Here are best and latest handpicked lehenga across major online ecommerce website:
1.)
Printed Classic Lehenga
Color: Lilac
Lilac is a forever fashionable color and if you are looking for the printed ones here we have a best option for you. From The House of Masaba, Moon Belle Lehenga in Lilac with Green Leaves.
2.)

Black N Gold Printed Lehenga
If you are in love with Black color than I am sure Your are looking for a Black Lehenga with classic gold work. Definitely House of Masaba can present a tasteful variety and this one can beat others.
3.)

Georgette Sequin Lehenga
Sequin with Georgette is most suitable Lehenga combination for the Bridal look and if your listening to me than wine color adds the glamour to its work. Manish Malhotra is one of the renowned designer who can destroy your hunger for the best look in your wedding.
4.)

Metallic Sequin Lehenga
Another sequin Lehenga is a two toned with metalic work on it. This heavy but decent look will win your heart and its color will represent the actual person you are.
5.)

Banarsi Silk Lehenga Choli
Banarsi Silk is always on in the market of Fashion but with red and orange combination. Boss its going to rock your mind. Watch this Lehenga on the website and dive into the ethnic world.
6.)

Designer Lehenga of Resham Work
Midnight blue is a color of dream which let you float in the dream where you are the only princess. That's what you want to feel in your wedding right? Go for this Resham work with Sequin on Blue and fulfil your dream.
7.)

Designer Pearl Sequin Lehenga
I know girls we all love Pearls and Pearl work on Pink Georgette is the best combination to make an impression in the party or wedding. Visit this website and fix this sexy piece for yourself.
8.)

Lehenga with Mirror Work on Silk
This grey color lehenga with mirror and thread work will definitely make your day. Its thread work is decent but done with peach color and has same color of dupatta makes it look amazing. Order it now.
9.)

Mauve Embroidery Lehenga
If you are more specific about the colors and work on your clothes, I think you must visit this website of designers for your look. This embroidery is unique but also decent to got with. Couture By Niharika From Pernia's Popup Shop.
10.)

Gold Embroidered Lehenga
Gold Lehenga is a special function lehenga which makes you a center of attraction the party. So wear it and show your confidence to the people and glow like gold forever. Designed by Seema Gujral.
11.)

Maroon Velvet Lehenga for Bride
Are you a fan of velevt clothes? No? Oh please! it gives a automatic rich look and color to your style and don't forget your facial glow, it will definitely stands up with the rich look.
12.)

Blush Pink Exclusive Lehenga
This piece will move your heart. Just see the Embroidery of Stone and its detailing. Manyavar Rocks. I love its combinations with the dark pink flower and its simple dupatta of net.
13.)

Yellow Color Lehenga with Resham Work
Daffodil Yellow color is the given name of the dress with worked awesome with the multicolored Resham work and Sequin work. Attack this beautiful piece now and win it.
14.)

Lily Green Tiered Lehenga
Tiered Lehenga is in Fashion and looks amazing with the multicolored Resham and Moti work. Literally you must watch this dress and finalise your wedding dress with the beautiful work of Resham.
15.)

Cloud Grey Georgette Lehenga
Lehenga with some mirror work and sequins embroidery you are looking, than you should consider this piece also. The simple color and ethnic work of mirror makes it a perfect combination.
16.)

Mint and Hot Pink Lehenga
Product from Lashkaraa gives a very soothing and calming look. This Lehenga is made up of Net of Mint Green color and has embroidery of Hot Pink which gives a dashing look to the piece.
17.)

Navratri Special Lehenga
Navratri Lehengas are the ones which makes you feel the celebration like more enjoying and cheerful. Various colors and combination brings the tradition of playing Garba in the festival.
18.)

White Embroided Lehenga
White is favourite color of most of us. We all want white or cream color in our wardrobe, so collect this material and use it to show your confidence. Indian Silk House Agency will fulfill your dream of beautiful white color lehenga with embroidery.
19.)

Yellow Lehenga Choli with Dupatta
Yellow color lehenga can be used on traditional purpose like in temples for some big pooja and for the festivals as Indians have so many to celebrate every year. Yellow Lehenga with White embroidery and boat neck pattern. Enjoy and set your wardrobe now.
20.)

Red Meena Work Lehenga
Red lehenga are very popular and give both the looks at a time i.e, simple or rich. Here present a Banarsee lehenga of beautiful red color and with blue Meena work. You can also find some very best pieces of Banarasee Lehenga here.
21.)

Lime Green Lehenga
Banarasee Lehenga is one of favourite collection of clothes and also with the lime green color makes it a unique and stylish piece of rich lehenga. It gives a recognition to the woman so you can choose the best banarasee lehenga as a bride.
22.)

Grey Indo Western Lehenga
Do you want a simple piece of traditional clothe for Indian function? Do you Love Indo Western Style? Use this website and find some awesome piece of Indo western lehenga here. I love this piece of all over grey color with litle mirror work and peach color work in it. I have already added this in my cart, find yours here.
23.)

Epic Combination Lehenga
Oh my god! I love this Lehenga. Yellow, Pink and White panelled Lehenga and Pink choli makes it a perfect combination. Also you can notice the fine embroidery work and mirror work in it. In one word Its 'WOW'. You can wear it in any season of Wedding. Click this website and keep it in your collection.
24.)

Black Floral Lehenga
House of Panchhi has some of the best piece of everyones choice. Run the website and prove me correct here. I know this piece is always the best to wear when it has that blush pink flower on black. It really mesmerize your mind. Also its a good prise to claim it so HURRY UP!
25.)

Royal Blue Floral Lehenga
Royal Blue is an epic color for lehenga and also with the white floral it looks refreshing and amazing vibe to your stylish wardrobe. This piece is from Bunaai and they have more breath taking pieces. Visit now and keep this one in your cart.
26.)

Velvet Wine Color Lehenga
Velvet piece of cloth in wine color looks amazing plus you can see the simple gold leaves work on it. That's it no more to say but its a love at first sight.
27.)

Bottle Green Zariwork Lehenga
Koskii took the one of the best color in velvet and designer also did their unspeakable work of Zari in it. This piece will definitely fulfil your hunger for best Bridal Lehenga.
28.)

Kreeva Navratri Chaniya Choli
Its a festive season now and what we need first is a best Chaniya Choli for the Navratri. Believe me I have seen some of the Best Dresses of Navratri Season here. I like this one tell me which one you are going to keep.
29.)

Maroon Floral Lehenga Choli
Maroon floral Lehenga of Sabysachi makes a best combination for a bride. It gives a decent Bridal look and a traditional vibes which obviously you are looking for. This uncommon piece is worth your claim.
30.)

Cherry Color Embroided Lehenga
One of the best Lehenga for a Bride includes this one too. Cherry color looks awesome on brides plus can you see that sharp embroidery work here. I became a fan of this piece.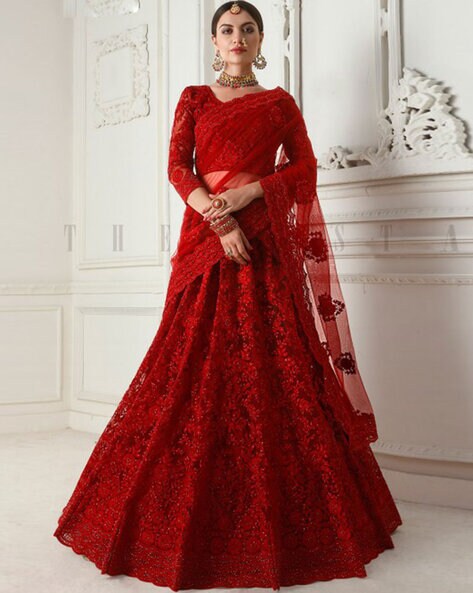 31.)

Green Net Lehenga Choli
Here comes your all time favourite website's best pieces. This killer green net lehenga with pink floral embroidery work is available on Flipkart with more than 50% off rate. This material is a semi stitched and very good ratings. HURRY UP! Don't miss it.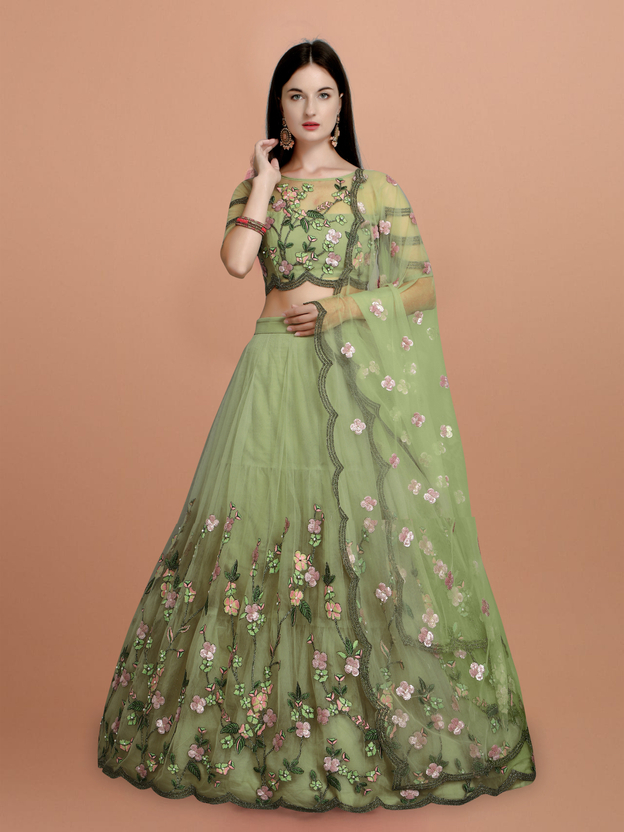 32.)

Silk Semi Stitched Lehenga Choli
Phantom Silk in Purple Color with gold embroidery work presented by your favourite celebraty Heena Khan. This piece of work is semi stitched and very unique in its own traditional version. Claim it from Amazon and add to your glamour.
33.)

White Pink Satin Lehenga
White and Pink combination is as simple and dashing as it looks. This piece is from Meesho.com and give beautiful view to your body. Its Satin Cloth with Pink Flower embroidery looks very stunning and come in its lowest possible range.
34.)

DRESSTIVE
Here is the beautiful piece I want to conclude with. Although I know might have choose your Lehenga from the above but Simple works best with us ladies. This Navy Blue color with gold tone sequinned Lehenga Choli looks very attractive to me. This is available in Myntra.com with all the details you are looking for.